Black Friday: Next, M&S and Wilko shun sales event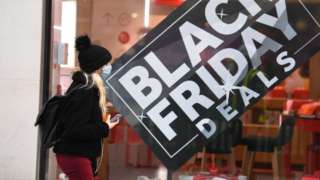 Some big High Street names have decided to shun the Black Friday shopping bonanza even though online spending in the UK is set to soar.
Next, M&S, Wilko and B&M will not be taking part in the sales event on Friday, which is seen as a key trading day in the run-up to Christmas.
Several retailers told the BBC they were focussed on offering good value all-year round instead.
Many shoppers use the annual event to buy discounted Christmas gifts.
More than two-thirds of shoppers have delayed a purchase to try to find a bargain in the sale, according to research by Lloyds Bank.
It expects Black Friday spending in the UK to jump to £750m this year. Last year, it totalled £718m, although drawing annual comparisons is difficult as the event covers more days and more shops take part.
But retailer Next has confirmed it will not participate. The decision comes after it reported that in-store sales have been badly affected by the pandemic and are about half of what they were by this time in 2019.
Despite the fact Next was a late adopter of Black Friday, previous sales saw bargain hunters queue up early in the morning for heavily-discounted clothes, homeware and furniture.
High Street stalwart Marks & Spencer has also decided not to take part.
A spokesperson told the BBC that it hadn't offered any "specific Black Friday deals" for the last few years, and that there were no plans to change that. "We focus on offering great value and deals throughout the whole festive season," M&S said.
The festive period will be crucial for the firm off the back of a difficult year, during which it reported the first loss in its history as a publicly-traded company. and was forced to announce 7,000 job cuts across stores and management.
Although sales of clothes and homeware slid during the six months to 26 September, its boss Steve Rowe has said that M&S was in a "much better position" in the run-up to Christmas.
Read more news before anyone else here. :
Slotxo สุดมันส์